Mr. Power's Inflatable Obstacle Course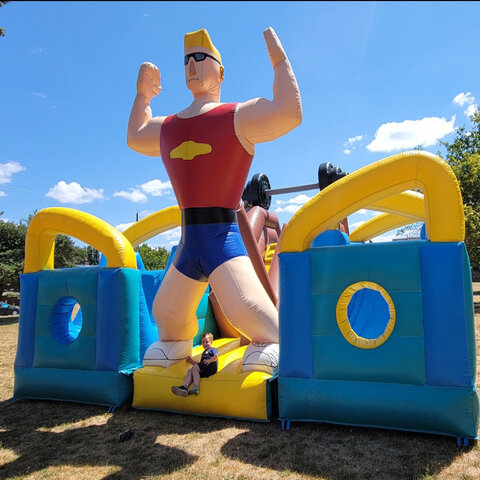 Setup Area: 35' x 35'
Actual Size: 30' x 30'
Description
Get ready to challenge your skills and conquer obstacles with Mr. Power's Inflatable Obstacle Course! This thrilling inflatable course is designed to test your agility, speed, and determination, providing an action-packed experience for participants of all ages.
Mr. Power's Inflatable Obstacle Course is a vibrant and visually appealing attraction that will capture everyone's attention. The course is filled with various obstacles, including tunnels, climbing walls, squeeze-throughs, hurdles, and more. Each section presents a unique challenge, keeping participants engaged and excited throughout the course.
Participants can race against their friends, family members, or colleagues, as they navigate through the inflatable obstacles, striving to reach the finish line. The competitive spirit is sure to ignite as they maneuver through the tunnels, climb over walls, and leap through the hurdles. Who will be the fastest to conquer the course?
Safety is a top priority, and Mr. Power's Inflatable Obstacle Course is built with high-quality materials and safety features. The inflatable walls and soft landing surfaces provide a safe environment for participants, while the clear pathways and secure footholds ensure stability and balance during the course.
This inflatable obstacle course is perfect for team-building events, birthday parties, school functions, community gatherings, and any occasion that calls for friendly competition and interactive fun. It encourages physical activity, boosts confidence, and promotes a spirit of camaraderie among participants.
Please note that Mr. Power's Inflatable Obstacle Course requires a flat surface free from sharp objects and access to a standard power outlet for continuous airflow. Our professional team will handle the setup and takedown, ensuring a seamless experience for you.
Challenge yourself and others with the excitement of Mr. Power's Inflatable Obstacle Course. Book it today and get ready for an adventure filled with laughter, cheers, and unforgettable memories!