Inflatable Pink Blue Towers Bounce House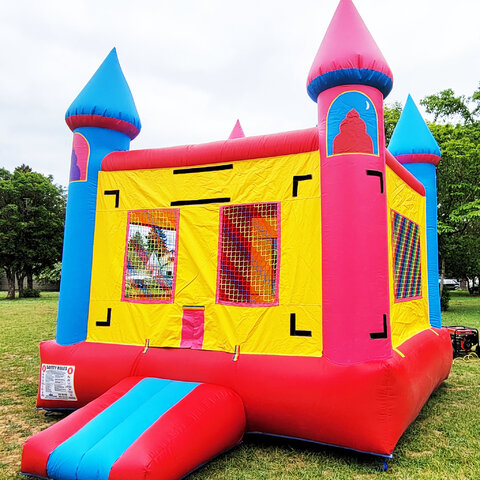 Setup Area: 15' x 15'
Actual Size: 13' x 13'
Description
Step into a world of bouncing excitement with the Inflatable Pink Blue Towers Bounce House! This delightful bounce house is designed to bring joy and laughter to children of all ages, offering a vibrant and enchanting play space for endless fun.
The Inflatable Pink Blue Towers Bounce House stands tall with its captivating pink and blue color scheme and towering structure. The colorful walls and playful artwork create an inviting and cheerful atmosphere, setting the stage for an unforgettable adventure.
Enter the bounce house and experience the thrill of bouncing! The spacious jumping area provides plenty of room for kids to jump, leap, and bounce to their heart's content. They can bounce off the walls, show off their acrobatic skills, and enjoy the freedom of active play in a safe and controlled environment.
Safety is our top priority, and the Inflatable Pink Blue Towers Bounce House is constructed with high-quality materials and safety features. The durable walls and reinforced stitching ensure a secure structure, while the mesh windows allow for excellent visibility and airflow. Parents can relax and watch their little ones have a blast, knowing they are protected and supervised.
This bounce house is perfect for birthday parties, family gatherings, school events, and any occasion where fun and entertainment are desired. It offers a fantastic opportunity for kids to engage in active play, promoting physical fitness, social interaction, and the development of coordination and balance.
Setting up the Inflatable Pink Blue Towers Bounce House is a breeze, and our professional team will handle all the logistics, ensuring a stress-free rental experience for you. The bounce house measures 13 feet by 13 feet.
Bring the excitement of the Inflatable Pink Blue Towers Bounce House to your next event and create a colorful and energetic atmosphere that will have children smiling from ear to ear. Book now and let the bouncing adventures begin!