Inflatable Giant Jousting Pit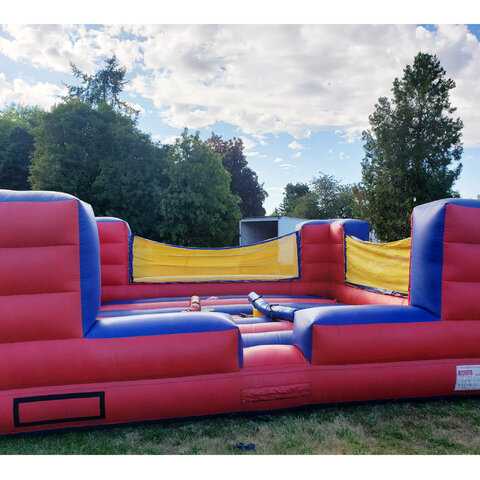 Description
Get ready for an epic battle with the Inflatable Giant Jousting Pit! This inflatable attraction brings the excitement of medieval jousting to your event, allowing participants to engage in thrilling one-on-one duels. It's the ultimate test of strength, balance, and strategy that will have your guests cheering and laughing.
The Inflatable Giant Jousting Pit features a large inflatable arena with two podiums on either end. Participants can climb onto the podiums, armed with padded jousting sticks, and prepare for a friendly duel. The goal? Knock your opponent off their podium and claim victory!
This inflatable jousting pit is designed with safety and fun in mind. The padded jousting sticks provide a safe way to engage in combat, while the inflatable arena ensures a soft landing for participants. The surrounding walls add an extra layer of protection, keeping the action contained and preventing any accidental falls.
Whether you're hosting a birthday party, a team-building event, a company picnic, or a school carnival, the Inflatable Giant Jousting Pit guarantees hours of competitive fun. It's a fantastic way to encourage friendly competition, teamwork, and active play among participants of all ages.
Please note that the Inflatable Giant Jousting Pit requires a flat surface free from sharp objects and access to a standard power outlet for continuous airflow. Our professional team will handle the setup and takedown, ensuring a seamless experience for you.
Create unforgettable memories and let the battles begin with the Inflatable Giant Jousting Pit. Book it today and let your guests unleash their inner knights as they strive for victory in this exciting inflatable arena!