Inflatable 30 Foot Giant Dinosaur a.k.a "Godzilla"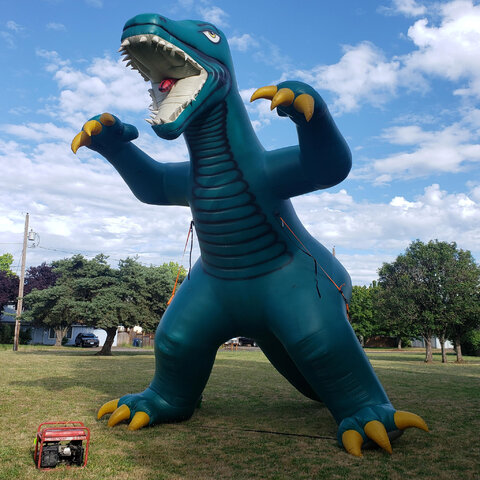 Description
Introducing the awe-inspiring Inflatable 30-Foot Godzilla! Prepare for a colossal experience that will leave your guests in awe. This larger-than-life inflatable brings the iconic monster to life, creating a jaw-dropping centerpiece for your event.
Standing an impressive 30 feet tall, the Inflatable Godzilla dominates the landscape with its imposing presence. The incredible attention to detail in its design showcases the fearsome features and powerful stature that have made Godzilla a legendary figure in pop culture.
This inflatable masterpiece offers an interactive experience like no other. Participants can enter the belly of the beast and explore the interior, discovering hidden surprises and encountering the essence of Godzilla firsthand. Its spacious interior allows for group exploration, creating a sense of adventure and camaraderie among guests.
The Inflatable 30-Foot Godzilla is perfect for a variety of events, including movie premieres, themed parties, conventions, or any occasion that calls for a truly unforgettable spectacle. It serves as a stunning photo opportunity, inviting guests to capture memories alongside this iconic monster.
Don't miss your chance to make a colossal impact at your next event. Book the Inflatable 30-Foot Godzilla today and transport your guests into a world of monster-sized excitement and wonder!