DC Justice League Bounce House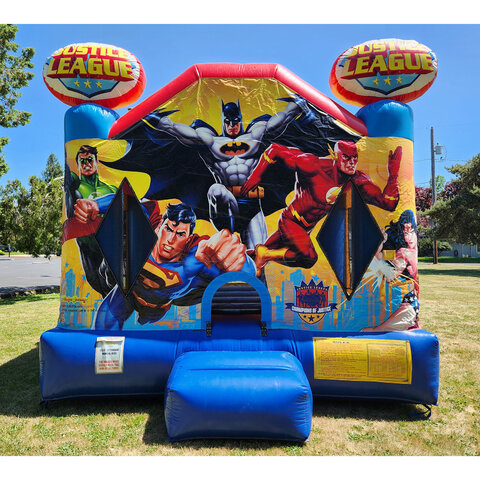 Description
Welcome to the epic world of the DC Justice League Bounce House! Get ready to unleash your inner superhero and embark on an adventure like no other. This inflatable bounce house brings the iconic characters of the Justice League right to your event, creating an atmosphere of heroic excitement and endless fun.
Step into a world of comic book magic as you enter the DC Justice League Bounce House. With its vibrant and detailed artwork, you'll be immersed in the world of Batman, Superman, Wonder Woman, The Flash, and more. This bounce house is a dream come true for fans of all ages, offering a chance to bounce and play alongside their favorite superheroes.The DC Justice League Bounce House provides a spacious jumping area, allowing multiple participants to join forces and bounce together. The sturdy construction and reinforced walls ensure a safe and secure experience for all guests, while the inflatable entrance ramp makes it easy for everyone to enter and exit with ease.
Don't miss your chance to bring the power and excitement of the Justice League to your event. Book the DC Justice League Bounce House today and let your guests soar to new heights of superhero adventure!